This is the place where Upham Design will communicate exciting opportunities to view Val Upham's original art, participate in local fund-raising events and plan visits to upcoming art shows.
Poetry on the Porch 2023
Gather around a wood fire to listen to poetry readings; bring your own writing and share with the group or just enjoy a cozy group setting followed by light refreshments. Poetry and words of meaning expressed with creative writers and appreciators within a Pinecone Studio setting. You are invited to join us.
Dates: September 3rd, October 1st, November 5th, December 3rd
Time: 3:00 - 5:00pm
Reserve your seat: Email [email protected] to reserve your seat. Should an event date be full, please consider attending the next scheduled poetry event.
Group size: 15-20 seats are available at each poetry event.
Cost: Donation suggested but not required.
Porch Setting: Prepare for possible cool temperatures, and please note there is stair access only.
Light refreshments: Please notify in email if there are any allergies that should be noted.
Sponsored by: Pinecone Studio
Damariscotta River Grill Art Show Celebrates Summer in Maine
The walls at the Damariscotta River Grill transform to summer colors and images, exploring a number of themes that capture the light and beauty of Maine. Artists Douglas Houle, Sandy Harper, and Valerie Upham each portray their unique style and viewpoints of life on the coast.
The opening reception is from 4-8:30 p.m. on Thursday, July 13, with a special prix fixe three-course menu that will be offered for $29 with a choice of wine pairings for $10. The regular menu will also be available. A portion of the dinner proceeds funds a scholarship for a Lincoln Academy student pursuing an art education.
Reservations requested. Art is on display Monday, July 10 through Monday, Aug. 21.
Houle lives in Jefferson and has been traveling northern New England for the last 29 years. His focus has been painting buildings, landscapes, boatyards, and docks, creating dramatic images using light and color.
"Through my painting, I have chosen to highlight the architecture and life of small town New England. I am drawn to the charm and nostalgia around old homes and barns, storefronts, lighthouses, and boatyards. Whether the places are frequently visited or passed by, they surround a town's people, giving recognition to the historical relevance they have in our communities," Houle said.
An artist all of her life, Harper has been inspired for over 30 years to paint the beauty of Maine through seascapes, coastal villages, lighthouses, and inland landscapes. Harper paints in a style of traditional realism, employing a light touch and a focused attention to detail.
Preferring oil as a medium, as it allows for the subtle blends and depth of color that are a hallmark of her work, Harper uses elements of light and color to present the beauty and the power of nature. Maine seascapes with their challenge of ever-changing light and dynamic movement continue to be a favorite subject.
Upham studied commercial design while attending a vocational high school and earned a bachelor of fine arts degree from Massachusetts College of Art and Design, focusing on illustration and graphic design. She worked in the advertising industry for over 30 years as a designer, art director, and creative director.
"I love to use a variety of mediums such as pastel, acrylic, watercolor, and graphite. My colorful portraits, unique perspectives, and intriguing landscapes have received recognition. A lifelong passion for the Maine coastline and its surroundings influence much of my artwork," Upham said. She lives and works in Midcoast Maine.
The Grill, located at 155 Main St. in Damariscotta, is now open every night for dinner starting at 4 p.m. Brunch is offered from 10 a.m. to 1:30 p.m. on Saturday and Sunday. Daily happy hour is from 3-5:30 p.m. with discounted drinks and appetizers.
To make a reservation, call 563-2992. For more information, find the grill on Facebook or go to damariscottarivergrill.com.
Habitat for Humanity 7 Rivers Maine
Habitat for Humanity 7 Rivers Maine will be sponsoring its 2nd Annual "Love to Build" fundraiser February 14th to 28th. Items will be available to view at the Topsham, ReStore (upstairs and down) and all bidding will be online.
This year the auction will include original art donated by local artists as well as rare and valuable items that have been donated to the ReStore. Take a look at the range of unique and creative offerings available to raise monies for this great cause.
Valerie will be donating three paintings along with other art from other talented artists.
Please help Habitat for Humanity 7 Rivers Maine build homes, where LOVE can grow. Thank you. Here's a sneak peak at one of the works of art donated by Valerie Upham: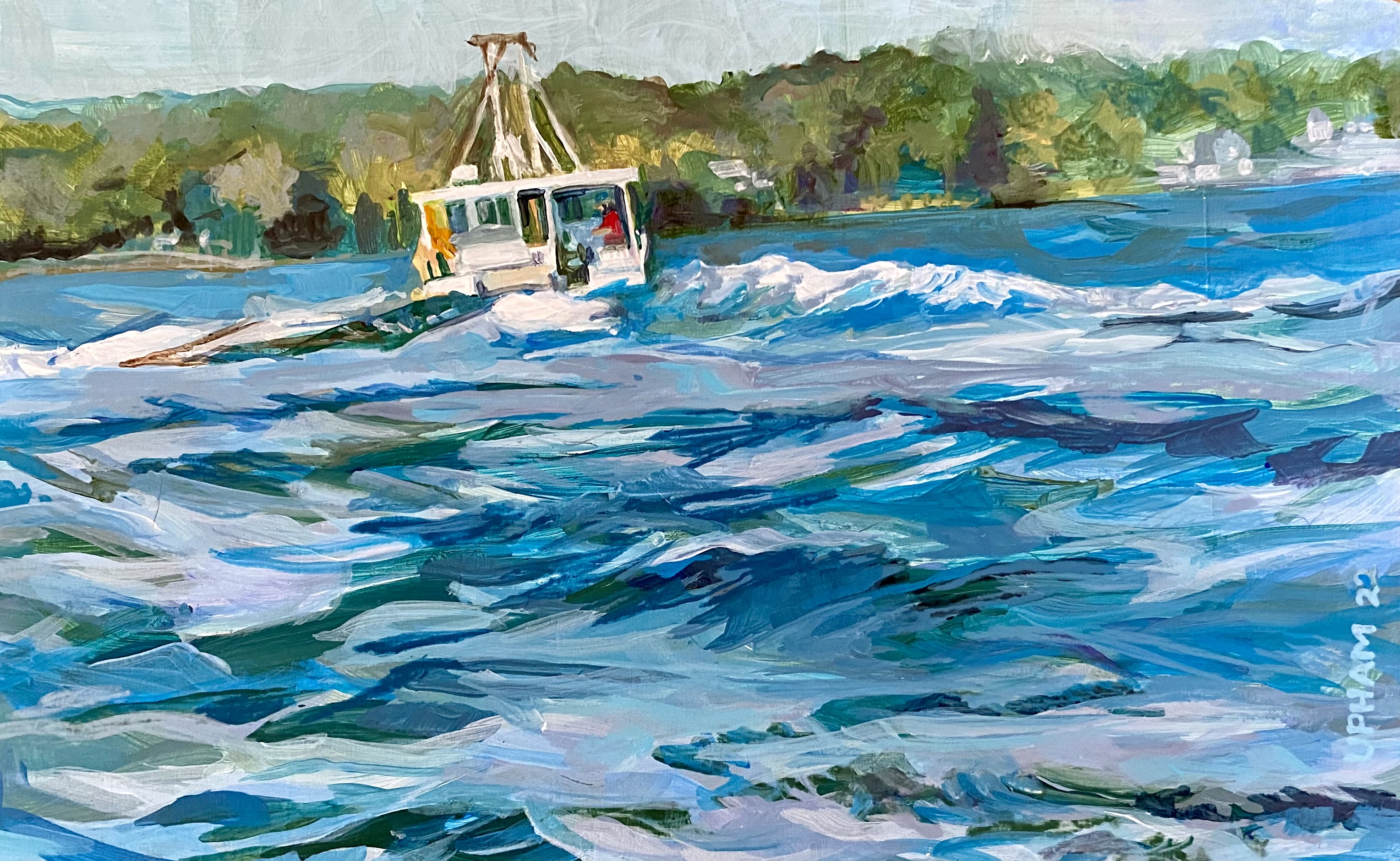 "Way to Go" artwork exhibit by Valerie Upham at Clayton's Bakery and Cafe (Yarmouth, ME)
February 11th to March 3rd, 2023
Clayton's Bakery and Cafe (447 US-1, Yarmouth, ME 04096)
Joining together with a local business and creating new art can create warm feelings during the winter here in Maine. Enjoy a warm drink as you take in the view of Valerie Upham's new 2023 artwork.
Cahoots 2022 (Brunswick, ME)
Saturday, September 24th, 2022, 11am-2pm
Harriet Beecher Stowe Elementary
Art auction, art show, live music, free pizza, obstacle course, and more.
Wolfe's Neck Center — Easel Invitational Art Auction (Freeport, ME)
Sunday, September 11th, 2022, 3-6pm
Tickets will go on sale to members Tuesday, August 9th and to the public on Thursday, August 11th.